Estate Agents Website Design & Property Website Software Suite
Beautifully Designed Website integrated with Robust CMS & Database with in-built Features. Highly Customisable & Editable.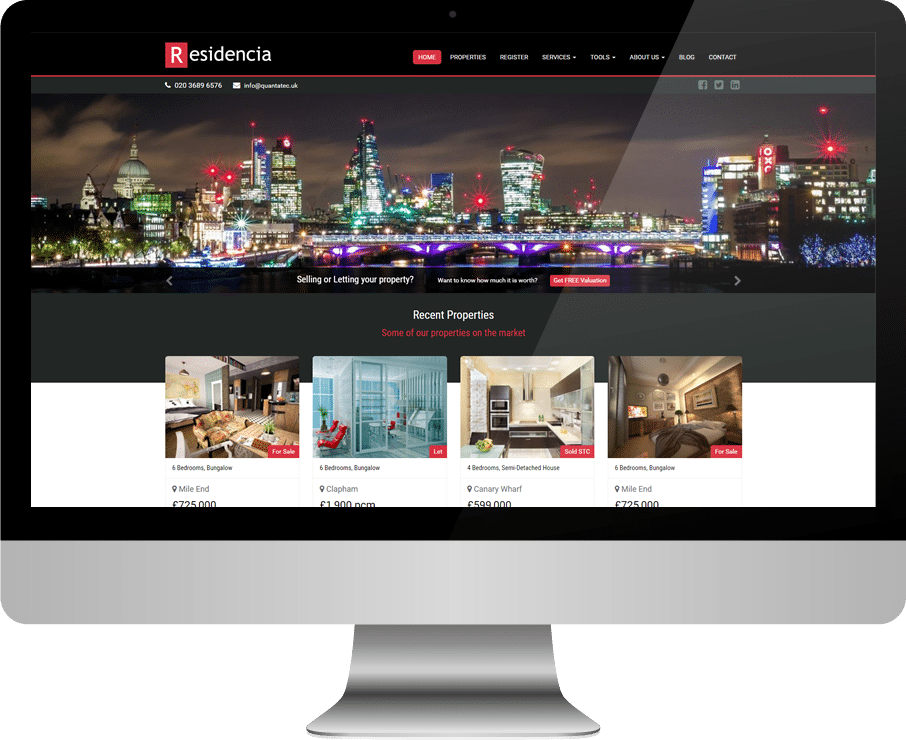 Estate and Lettings Agency websites

designed and built by property specialists
Our powerful Property Website Software Suite consists of a modern and responsive website, integrated with our robust, secure and user-friendly cloud CMS (Content Management System) and Database – it comes integrated with a range of powerful features and useful tools to get you more leads through your website, manage all your tasks with ease, and boost your business performance.
Our user-friendly and highly customisable websites for Estate Agents are Google and SEO-ready, and GDPR compliant. Our Estate Agency Websites coupled with our Property Software offer you the solutions with proven results for showcasing and managing your business efficiently as a high-end Estate Agent, Lettings Agency or Property Consultancy brand.
Get a FREE Website Mockup and DEMO in your own branding – choose from a range of our beautiful Property Website Templates, or get in touch for a FREE consultation to request a bespoke Property Website Design.
Property Website Suite features at a glance
Our state-of-the-art Estate Agency Website Suite consists of a complete Website and Software Package with powerful integrated features and tools to help you with your property business efficiently.
Launch your website within 48 hours!
We provide property feeds to and from all major property portal providers
Content Management System
Easily update your properties and website pages. We make updating pages and property listings on your website simple and seamless through our Content Management System. Our website suite contains additional page modules for better content presentation – ( including Tabs, Accordions, Background Videos, Photo Sliders, and much more ) so you can add, remove, edit all Page Contents, Properties, Videos, Documents and Images with ease.
Our suite will either automatically process a data feed of properties from your software supplier or allow you to manually upload them straight into the website.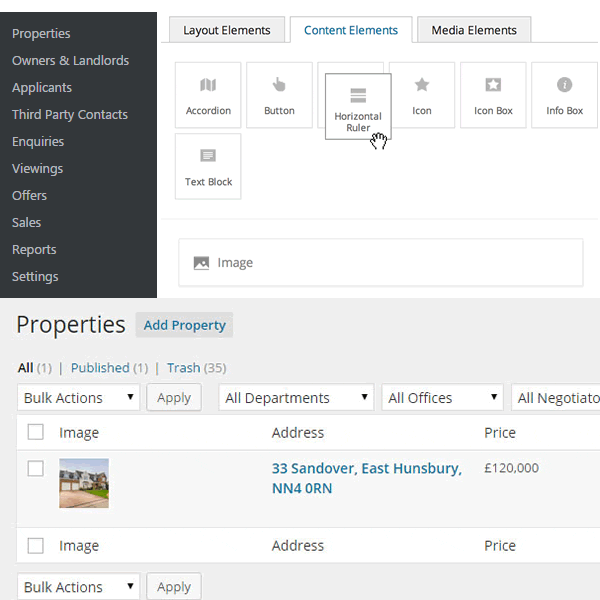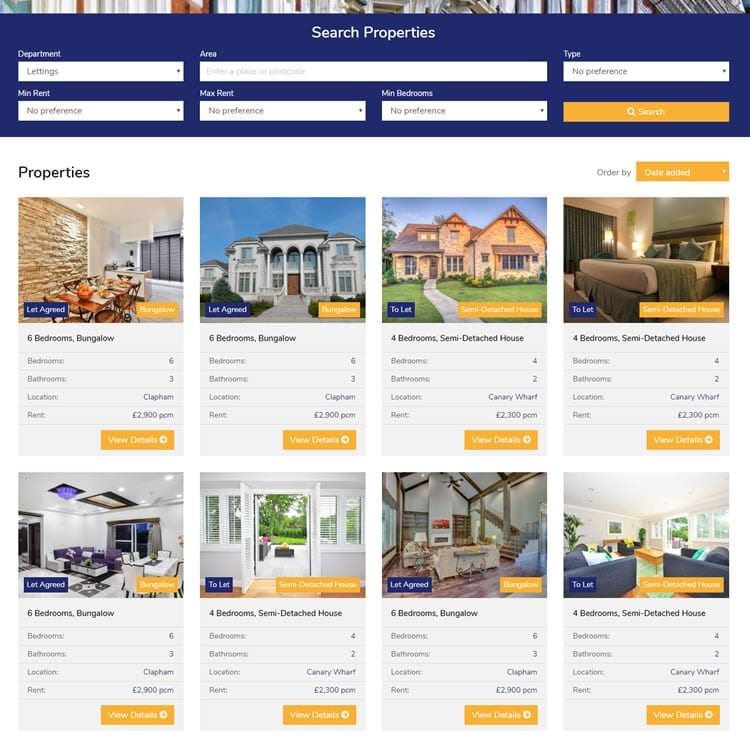 Property Listings & Search
It's easy to allow potential buyers and renters to search and view properties on your website. Our Estate Agency Suite websites offer grid view (magazine style), list view and map view of your search results.
There is also a 'save to favourites/shortlist' option and 'send to friend' so people can easily share an earmarked property.
Your visitors are presented with the ability to view results in the original list view, as well as the ability to view properties matching their criteria on a map. Show visitors on a map where properties that meet their needs are located relative to each other and important amenities. Help your buyers/applicants make informed decisions by offering them a clearer picture.
How close is the property to a school of choice, a train station, a motorway junction? These are all key factors in property location choices. Properties listing on Map is critical to the moving decision of your buyer/applicant. As listing criteria, such as price and number of bedrooms doesn't show where they are in proximity to other sets of information.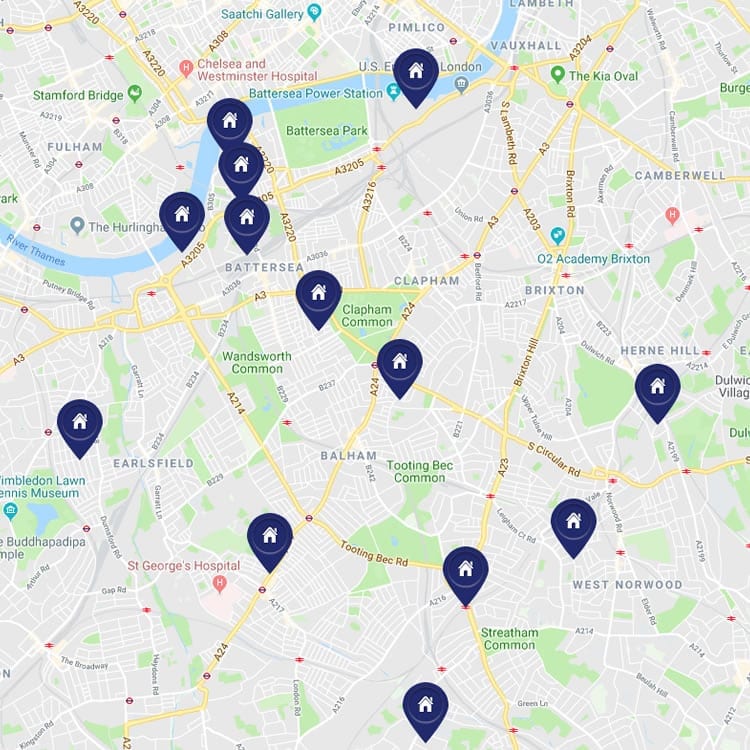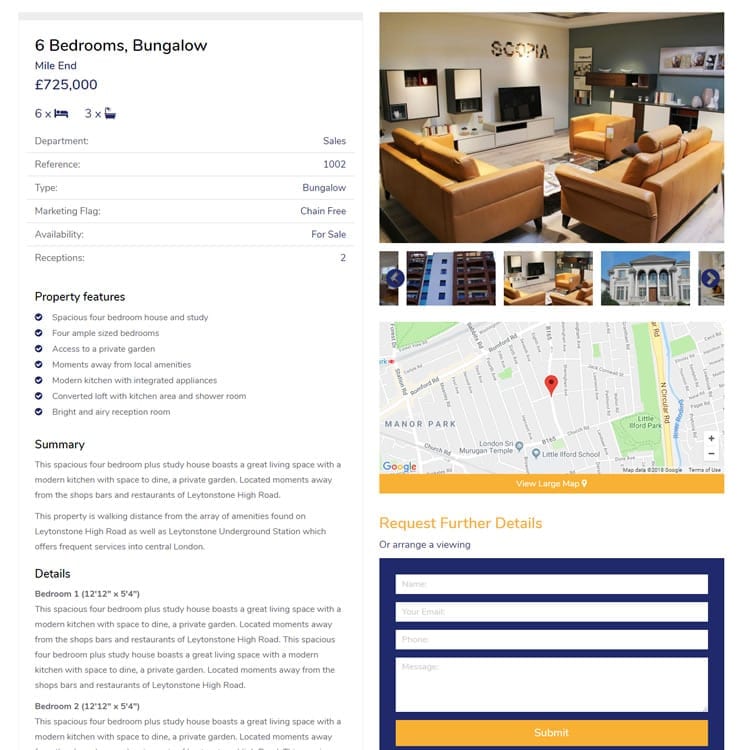 More in-depth information about each property can be stored using our suite. This includes fields such as property features, summary, bedrooms, bathrooms, photos, floorplans, brochures, EPC's and virtual tours. You can also record the full property address as well as it's exact geo coordinates.
Record specific information based on whether the property is for sale or to rent, such as price, rent, furnished, and more can also be stored. Details also includes full screen slideshows, great maps, Street view, even a printer-friendly A4 PDF.
Contact & Valuation Forms
Our website suite contact pages are professional, stylish and you can display your business address, office photo, location on map, street view and necessary contact phones, emails and details so that potential landlords, vendors and applicants can get in touch. 
We also provide easy to use online contact forms and property valuation forms that your visitors can fill up and all the information will be emailed to you which can be used to deal with the enquiry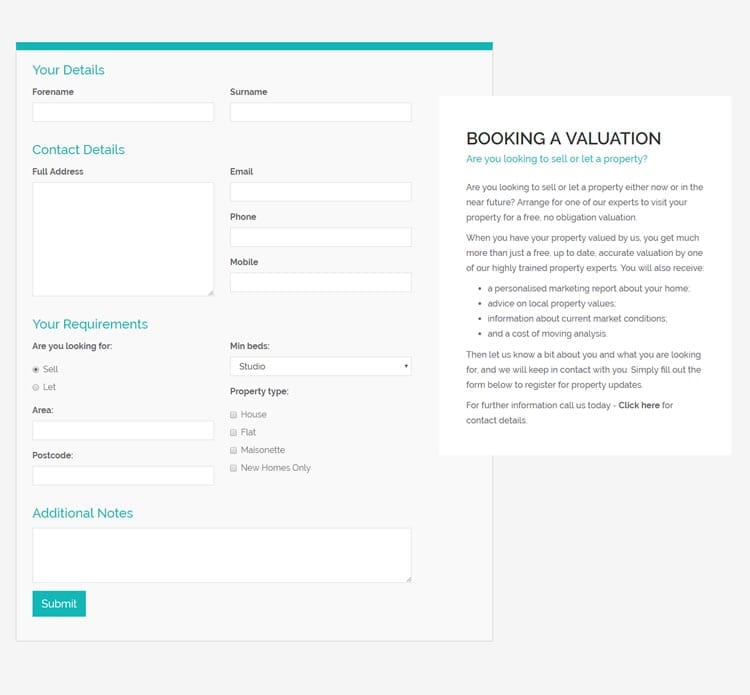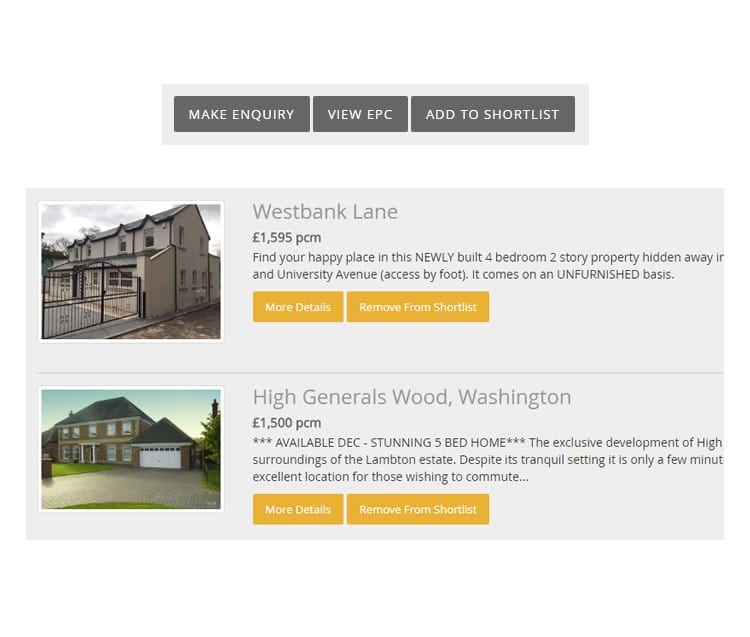 Property Shortlist & Favourites
Add to shortlist Button and Listing. Your website visitors can create their own personal list of favourite properties, they are interested in, with a button provided on each property record, allowing them to add or remove the property from their shortlist.
Each time they visit the site on the same device they are able to view their own list, add to it, amend it and delete properties without having to create an account and login with time consuming form. Doing it this way save time while retaining the full facility to maintain a shortlist they can return to.
Book Viewings In Seconds. Viewings can be entered from the property, the applicant, or the 'Viewings' section of our suite. We have put our focus on making it quick and easy to record new viewings meaning you can enter them in just seconds. 
Once a viewing has been entered, it's easy to record it's status as it progresses. Log when it has been carried out, record the applicant's feedback, mark whether the feedback has been passed onto the owner, and even book a second viewing or record an offer off the back of it. 
All status changes are logged in the viewings history so you can see exactly what happened, when and by who.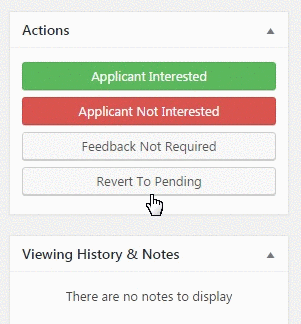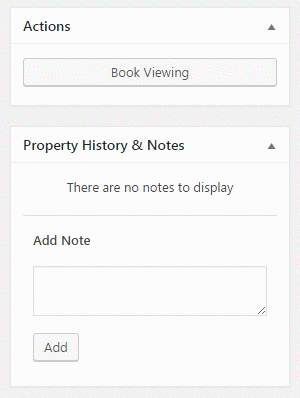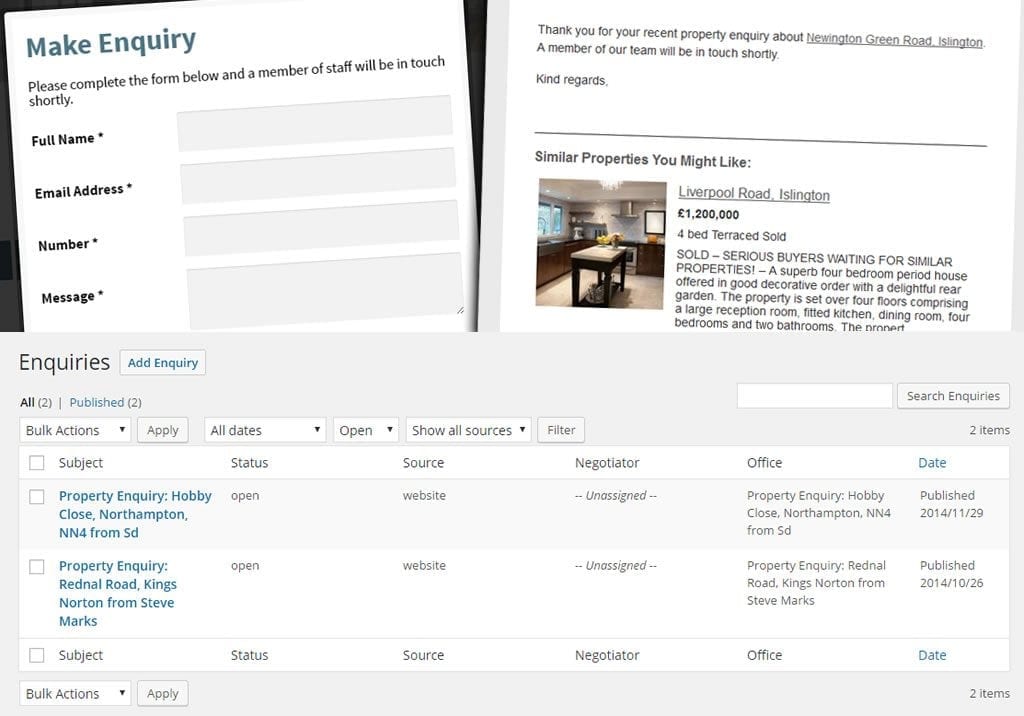 Enquiries made on properties from potential buyers and renters via your website will not only be sent to you via email, but will also be stored in the suite database. You will be able to see which property the enquiry was relating to, view details of the enquirer, and assign it to a negotiator to deal with. 
When you go into a property record you will have access to an 'Enquiries' tab which will display all of the enquiries ever made about the property in question. This also makes it quick and easy to feedback to owners and landlords how much interest their property has received since it's been on the market. 
When a enquiry is received you can also choose to send auto-responders containing a customised message and similar properties.
Vendors & Landlords Database
When adding or editing a property, you'll have the ability to enter the contact details of the vendor and landlord including name, address and contact details. Each vendor and landlord will have their own record where their details can be viewed and edited. 
Quickly search for existing contacts, or enter a new one whilst entering the property details. Our website suite has been built in such a way that each contact can be assigned to multiple properties.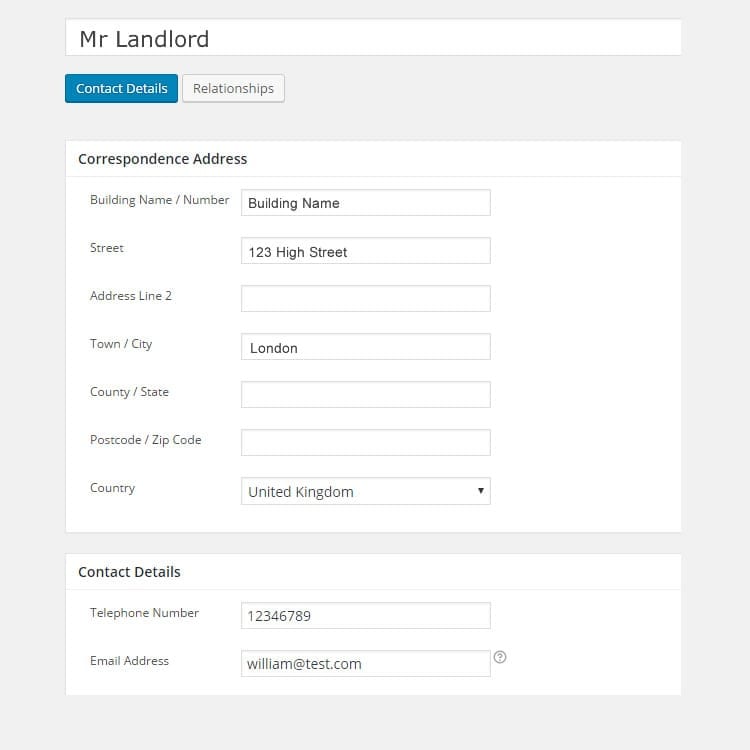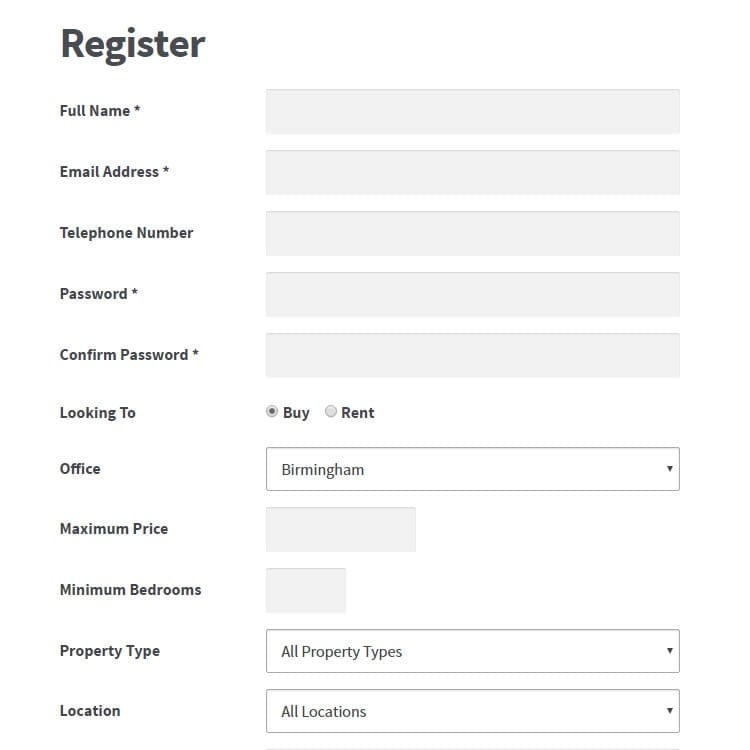 Applicants Registration & Database
Applicants can register themselves through your website registration form. Within our website suit, applicants will be stored in their own designated area allowing you to view and edit their details. You will also be able to enter each applicants requirements yourself, including information such as price, bedrooms, preferred locations and property types.
If you allow applicants to create an account when registering, they will be able to login at anytime to manage their contact details and requirements using their easy-to-use account area
Download & Print Property Brochures
Stunning print details at the click of a button. 
Give visitors of your website the ability to view a print-friendly version of properties they are interested in, straight from the property details page. These can be output to a popup or converted to a PDF using all the photos, floorplans, descriptions, a map and the obligatory EPC.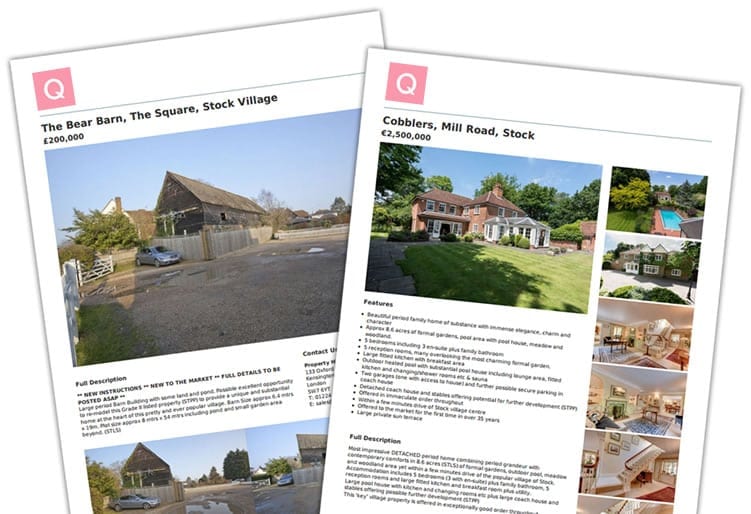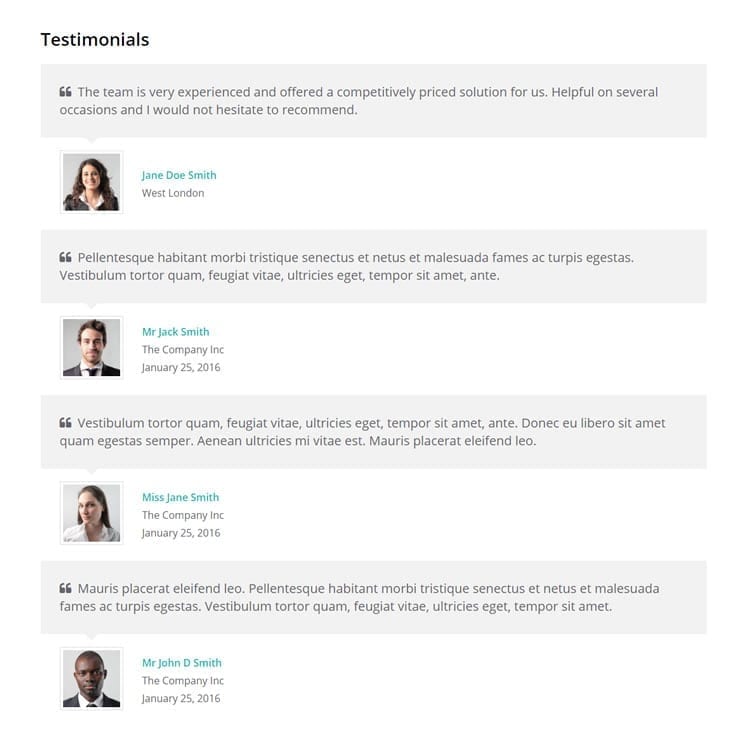 Nothing can convince a visitor to trust your brand or service than a previously satisfied client/customer experience. Our website suite comes with the ability for clients to write reviews directly onto your website but enabling you to block any you consider inappropriate. These pay great dividends and are well worth the effort.
Our website suite comes with support for fully functional blog, which can be used to display business and company related news, articles and for the property industry updates. 
We recommeand all our clients of writing a few articles each month about things happening in your company, community and the property industry. Your website SEO can also get a boost by simply following this practice.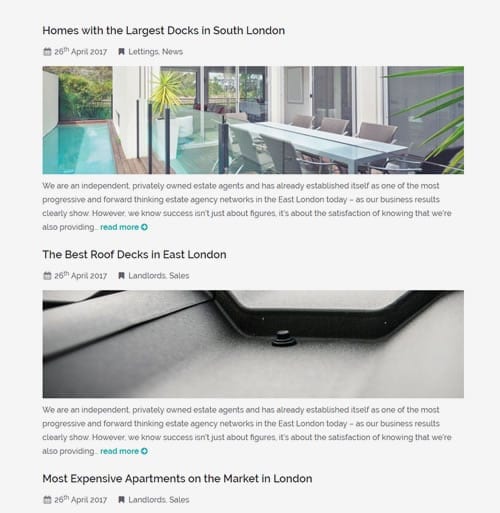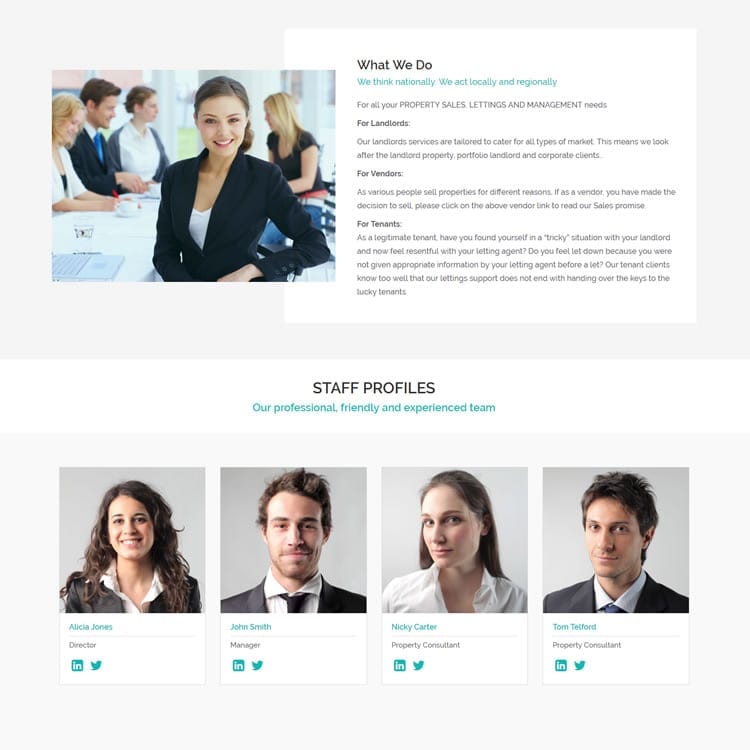 Display individual staff profiles or list of your company team members to gain trust of your visitors. Running an Estate Agency is very much a 'people' business and showing the people behind the business makes you more approachable. You can add/remove staff yourself and update bio or related contact details whenever appropriate.
Property Stock Analysis – Averages
The 'Average Property Stock Analysis' report looks at all of the on market properties and displays the average price or number of bedrooms for each property type or location.
Simply select the metrics that you want to view (property type, location, price or number of bedrooms) and the averages will be presented on the chart. 
Property Stock Analysis – Totals
The 'Totals Property Stock Analysis' report allows you to select one or more metrics at once and view how many properties you currently have on the market for each unique combination of metrics chosen. 
Property View Statistics And Popularity